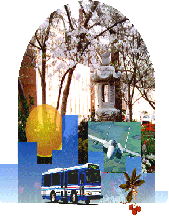 The Middle Georgia Clean Cities Coalition began in 1996 under the leadership of the City of Macon and the U.S. Air Force's Alternative Fueled Vehicle Systems Program Office and the Environmental Management Directorate both located at Robins Air Force Base.
Since that time, the MGCCC has expanded to over 30 stakeholders and other participants.
The mission is to increase national energy, promote economic opportunity and improve region's air quality by increasing the use of alternative fuels and other clean air strategies.
Creating new jobs and commercial opportunities
Facilitating alternative fuels vehicle production and conversion.
Expanding local refueling infrastructure increasing the use of alternative fuels.
Developing "clean corridors."
Increasing public awareness.
Advancing clean air objectives.
Supporting regulated fleets.